Par excellence and personalized installations
From slides up to complete structures
Design
During discussions with customers, New Dieresin designers develop creative ideas with 2D and 3D concepts, complete with all the necessary structures, filtration and disinfection systems, with slides and accessories.  An effective presentation provides a vision of the idea as a whole.
Engineering
After discussing and approval of the first project, each element is designed in detail and inserted into unique, completely customized solutions.  Each product complies with all applicable regulations concerning design, safety and construction, so as to guarantee maximum efficiency.
Executive master-plan
The characteristics of the equipment and the systems are defined before production: from slides to accessories for water fun, from the supporting metalwork to access paths, with dynamic fluid simulations for specific innovative products, which allow to view user access paths for special attractions.
Complete product range
In-house production allows New Dieresin to guarantee great processing flexibility, maximum creativity and customization, and to offer a highly professional service, always respecting delivery times.
Materials and special effects
The experience of our technicians and our in-house production plant offer a great number of customization possibilities for each project, thanks to the use of innovative materials and the application of special effects. For truly unique slides and water games.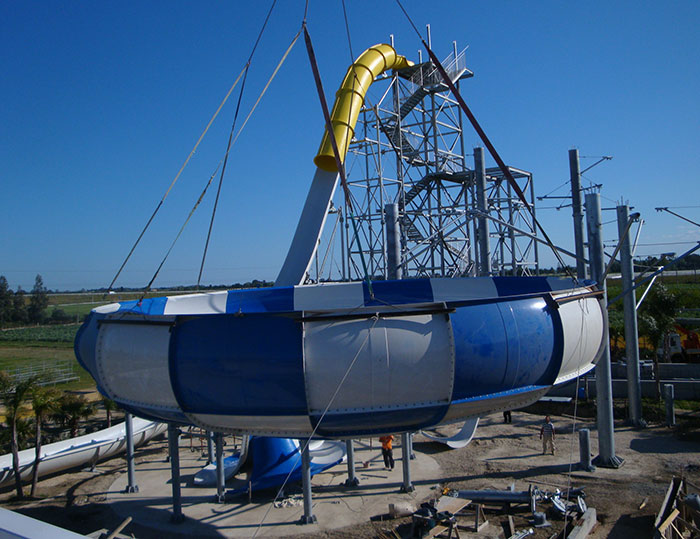 Assembly and testing
A team of expert technicians carried out assembly of all structures on-site, with state-of-the-art installation, including tests and inspections in compliance with current regulations. Final assessment includes physical tests for each slide, training of personnel of the water park, issuing of certificates of conformity.
Assistance and maintenance
Customer support also continues after the installation of the structures. For slides and games that are always in perfect working order, fun and safe.
Ask for a free consultation